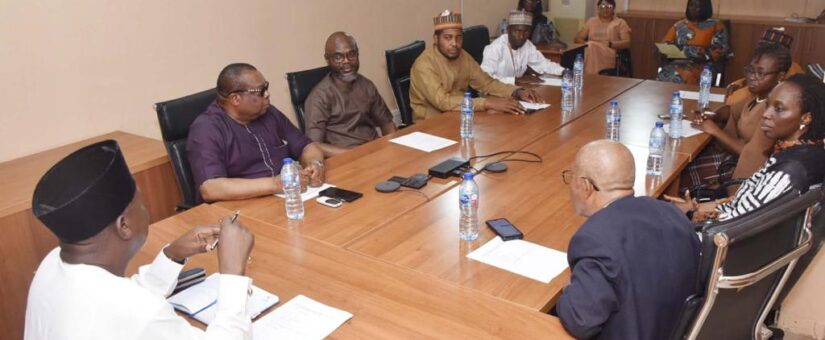 INTRODUCTION
A Production Sharing Contract (PSC) was signed between Nigeria-Sao Tome & Principe Joint Development Authority (NSTPJDA) and its operator partners, TotalEnergies & ExxonMobil on 14th March 2019. The contract grants the operators exclusive right to begin oil exploration in three (3) Blocks; 7 8 & 11, in the Joint Development Zone (JDZ)
In fulfilment of Clause 2 (2.04a) of the Block 7, 8 & 11 PSC, the Social Projects and Scholarship schemes are implemented as Corporate Social Responsibility initiatives in both Nigeria and DRSTP, to fit within the exploration licence duration.
The Social Projects involve provision of hygiene and sanitation amenities to state government-owned tertiary institutions across the Six (6) geo-political zones of Nigeria and social amenities in DRSTP
The Scholarship scheme is targeted at providing assistance to indigent students across the thirty-six (36) states of Nigeria, the Federal Capital Territory and the DRSTP.
REVIEW OF SOCIAL PROJECTS AND SCHOLARSHIPS
NIGERIA SOCIAL PROJECT
The Social project was to provide Sanitary/hygiene facilities in tertiary institutions in the six (6) geo-political zones of Nigeria. The nominated states are:
Rivers States University, Nkpolu, Rivers State (South-South)
Mai Idris Aloma Polytechnic, Geidam. Yobe State (North East)
Niger-State Polytechnic, Zungeru. Niger-State (North Central)
Enugu State Polytechnic, Iwolo. Enugu-State (South East)
Nuhu Bamali Polytechnic, Zaria. Kaduna State (North West)
Moshood Abiola Polytechnic, Abeokuta. Ogun State (South West)
2. NIGERIA SCHOLARSHIP (INAUGURAL BATCH)
The First phase of the scheme corresponding to 2021/2022 is to target a one-off payment to twenty-five (25) successful candidates from each of the thirty-six (36) states in the country and twelve (12) from the Federal Capital Territory (FCT).
NIGERIA SCHOLARSHIP AWARDEES
Total no. of awardees- 286
PHOTO OPS SESSION WITH SUCCESSFUL AWARDEES / CANDIDATES
The photo ops session between the JDA Management and a few of the successful awardees, held at the JDA Abuja Offices on Wednesday 12th July, 2023.
Sights and sounds
DRSTP SOCIAL PROJECT (On-going)
The DRSTP elected projects are:
Construction of access road to community in Santa Teresa
Construction of 9-unit (9 Semi-detached bungalows) low-income houses in Ponta does Sol, Principe.
DRSTP SCHOLARSHIP AWARDEES (INAUGURAL BATCH)
RIVERS STATE UNIVERSITY, NKPOLU, RIVERS STATE (SOUTH-SOUTH)
Sights and Sounds
MAI IDRIS ALOMA POLYTECHNIC, GEIDAM. YOBE STATE (NORTH EAST)
Sights and Sounds
NIGER-STATE POLYTECHNIC, ZUNGERU. NIGER-STATE  (NORTH CENTRAL)
Sights and Sounds
Posted by cit
On July 31, 2023
0 Comments